Alexis Ohanian Will Get Popped For Dating Serena WIlliams
People are constantly questioning whether
Drake
is a thug. Yes, it's true that
he has emotional songs with his mom
, is constantly crooning about heartbreak, and that he has those cute puppy dog eyes. However, his last album was 90% beef songs against
Birdman
and even features a song where
Drake is singing about his guns
. Drake contains multitudes — he might be an effeminate romance crooner at times, but at other times, he is in fact a fuckin thug.
2Pac
was like this too, constantly switching from extremes of sensitivity and ruthlessness — but for some reason, 2pac is primarily remembered only for his thug side, whereas Drake's thug side is largely hidden in his popular persona.
I think the new relationship between
Reddit
founder
Alexis Ohanian
and Drake's ex-fiancee
Serena Williams
is going to bring out Drake's thug side. I wouldn't be surprised if Alexis ends up getting popped. One of the main reasons this development will anger Drake is that he's already kinda jealous of tech guys. He has publically stated that, were he not a rapper, he would "
probably be in Silicon tryna get [his] millions on..
" So Drake has it out for an Alexis-type dude to begin with.
What exacerbates the situation is that Alexis has exactly the dopey kind of face of somebody who really deserves to get popped. He's always got a stupid grin and I think Drake would be doing us all a favor wiping that shit off his face.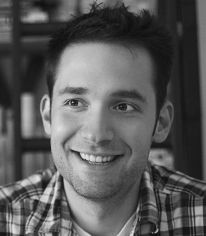 Imagine this dope dating your ex — ugh…
Another factor is that Ohanian is Armenian, and Drake is rumored to be best friends with the Grand Pasha of Turkey, who is a mortal enemy of Armenia. (Drake even performed at the Pasha's recent birthday ceremony in Vegas!)
However, the main reason why I see an epic beef brewing between Drake and Ohanian is this: Ohanian's invention, Reddit, is the birthplace of the exact "Drake is Soft" memes that give everyone a lopsided sense of who Drake is. Just because Drake has beautiful eyes — and Redditors don't listen to music deeply, they only have a superficial understanding of popular songs — Reddit has spawned a plethora of "Drake is Soft" memes that are completely detached from the reality of Drake.
This is how Reddit sees Drake..
Wouldn't it be ironic — in the Alanis Morissette sense of the term — if the "Soft Guy of Reddit" now pops Reddit's founder? I hope Ohanian has made enough money from Reddit to hire himself some bodyguards, otherwise the Reddit "liquidity event" might turn out to be a pool of blood!